How to Ace Your Business Presentation in English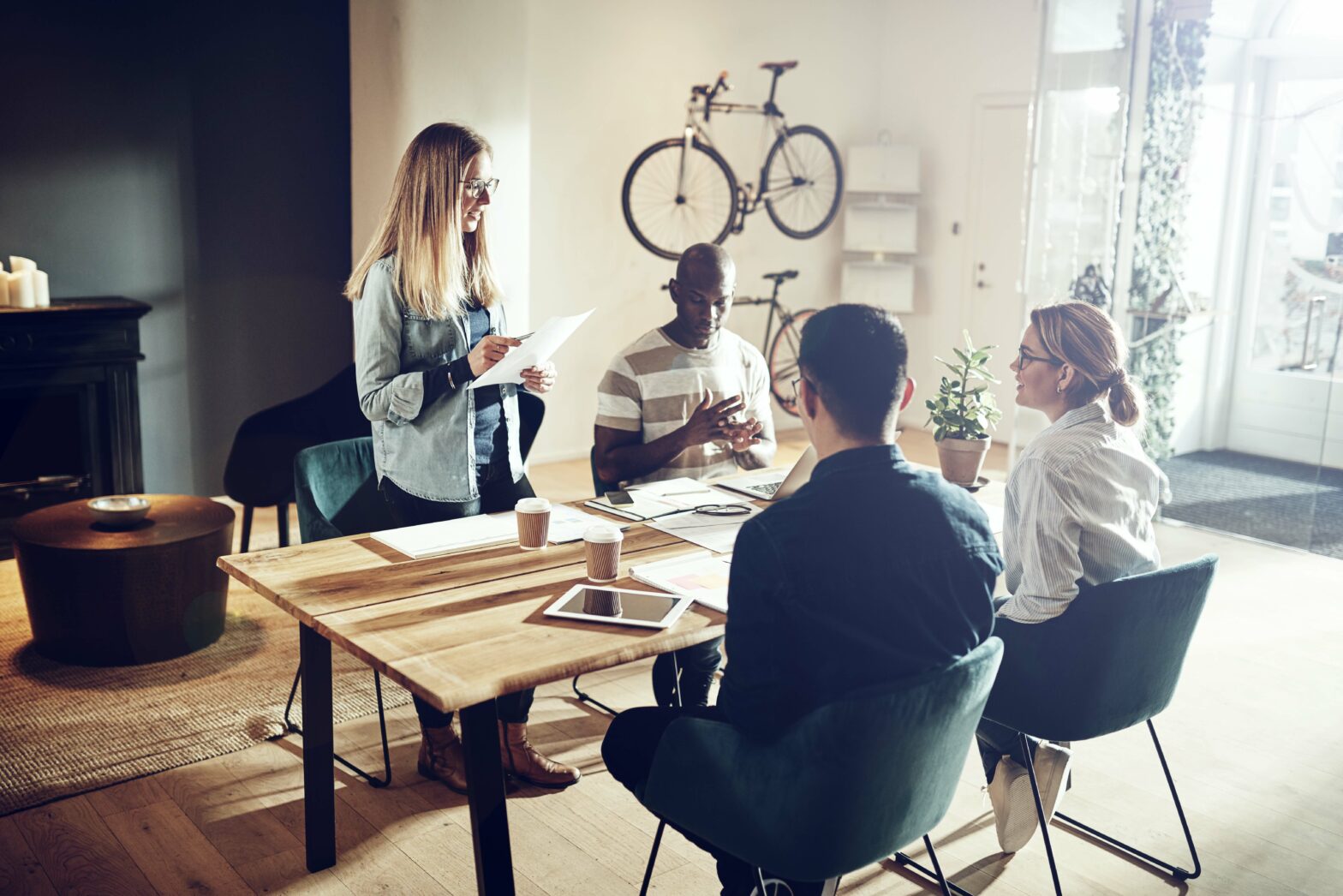 So, you need to make a business presentation in English.
First of all, congratulations! To be in your position, you must have invested a huge amount of time and effort in your English language skills. You should be proud.
That said, we totally understand that giving a presentation in a second language can be a challenge. You may be worried that your audience won't understand your accent. Perhaps you are wondering whether you need to use specific vocabulary. Maybe you're not sure how best to handle questions from your audience.
If this sounds like you, don't worry. In this post, we're going to run through our top tips for acing your business presentation in English. Even if you've already made a few presentations in the language, we're sure you'll find these suggestions helpful.
So, read on to learn more. And before we start, let us wish you the very best of luck in delivering your next presentation.
Understand your audience
As with all forms of communication, it's vital that you understand who your audience is. Even in the business world, you can find yourself speaking to very different groups of people.
For example, if you are giving a presentation to members of another company, you would certainly be more formal than when you give a presentation to members of your own team. In each case, you need to think about what your audience will expect from your presentation.
So, before you write a word, ask yourself these questions about your audience. Who are they? What interests them? What do they need to know? What do you want them to do as a result of your presentation?
One useful tip for writing your presentation is to imagine your audience is a single person. It's easier to write convincingly if you have a single person in mind. Try it!
Mind your language
Most audiences will expect you to give your presentation using formal Business English. Don't make the mistake of confusing Business English with business jargon.
Successful Business English uses language that is simple, direct, professional and easy to understand. Business jargon on the other hand, relies on obscure phrases, clichés, and acronyms. In many cases, business jargon is complex, not very precise and a barrier to good communication.
We have some useful resources on Business English on this page. However, if in doubt, keep the language of your presentation as simple and clear as possible. It's also a good idea to use sentences with the active, rather than the passive voice. This allows you to use fewer words, which makes your sentences shorter and more engaging.
To give an example, this is a sentence in the passive voice:
The interview was failed by over one third of applicants.
Now compare this sentence, which is in the active voice.
Over one-third of applicants failed the interview.
To learn more about the active and the passive voice, check out this explainer from the British Council.

Practise, practise, practise
If English isn't your first language, it's more important than ever to practise your presentation before delivering it. By practising, you'll feel more comfortable using English in a business setting. You'll be able to work on any words or phrases you find difficult to pronounce, or you can change them to words or phrases you are more comfortable with.
Ideally, you should practise giving your presentation in front of someone else. That way you can get useful feedback on what works well, and what doesn't. If that's not possible, make a video of yourself giving your presentation. When you see yourself on screen, it will give you helpful insights into ways you can improve your delivery.
Don't forget to introduce yourself
It may sound obvious, but don't forget to introduce yourself at the very beginning of your presentation. It not only breaks the ice, but it's an opportunity to get the audience on your side. If you are presenting to native English speakers, you may wish to tell them that English is not your first language – but don't apologise for it! If anything, your audience will be impressed that you can give a presentation in a second language.
Have a clear structure
When people learn to teach in the UK, they are often told to structure their lessons in this simple way:
Say what you're going to say
Say it
Say what you've said
In other words, introduce the session by explaining what you intend to talk about. This sets the audience's expectations – they know what's going to happen.
You then use main part of the session to make your presentation. There are many effective ways of doing this, and we'll cover some of these soon.
Finally, finish by summarising the most important points of your presentation. This helps your audience to remember them clearly.
One other tip, if you plan to let the audience ask questions, it's a good idea to tell them you'd prefer to answer them at the end of the presentation. This will discourage them from interrupting your presentation at the wrong moment.
Use storytelling
People love stories. If you can capture your audience's imagination with a story, you can make a very powerful impression.
For example, imagine you are giving a presentation about how to commission new advertisements for your company. You want to make the point that good copywriting as just as important as good visual design.
You can either make your point directly, like this:
"Successful adverts rely on good writing as well as good design. If you change the wording of an advert, it can often result in extra sales – or fewer. Therefore, the words we choose are as important as the images we use.".
Or you could begin with a story, like this:
"I want you to imagine it's the year 1907. A man called Louis Victor Eytinge is in prison, convicted of murder. He's a drug addict, suffering from tuberculosis. He's unlikely to live, never mind get out of jail. Yet, by 1923 he walked free into a well-paid advertising job and a career as a Hollywood screenwriter. How? He had written his way to freedom. I want to use his story to show you why, if we want successful adverts, we need to commission powerful writing as well as good design."
Which version of the presentation would you rather listen to?!
Remember pace and pitch
One useful tip for acing your business presentations in English is to vary the pace and pitch of your delivery.
While you don't want to speak too fast, it's a good idea to use a different pace for different parts of your presentation. For example, when you want to communicate a key point, speaking more slowly will help people understand that you think it is important.
Equally, it's a good idea to vary the pitch of your voice. Try and keep this as natural as possible, but experiment with using a higher pitch when asking questions and a lower pitch when beginning your sentences. One good way to learn how to vary your pitch is to listen to UK news broadcasts – news presenters are expert at varying the tone of their voice to keep listeners interested.
Add a call to action
Most business presentations are given for a specific purpose. You may want to convince another company to work with you. Or you may want to convince your own firm to invest in a new kind of product. You may simply be explaining to colleagues how a new training scheme will work.
Whatever the purpose of your presentation, always remember to tell your audience what you want them to do. This is a 'call to action'. Do you want your audience to email you their ideas? Or send you a funding proposal? Or arrange a meeting?
No matter what you need your audience to do, don't forget to tell them. And at the very end, be sure to thank them for their time!
More business presentation tips
There are many other tips we could share with you on how to ace a business presentation in English. For example, it's never a good idea to read your presentation from a piece of paper – it's not engaging and it means you can't easily make eye contact. It's also tempting to rely too heavily on visual aids like PowerPoint, but if you get it wrong your audience will read your slides instead of listening to you. On the other hand, it can really engage an audience if you ask them to work together in small groups to share ideas or solve problems.
However you choose to make your presentation, if you prepare well, speak clearly and work hard to connect with your audience, you are very likely to succeed. And if you'd like to improve your presentation skills even further, why not try live online classes with English Online? They can help you succeed in any career where using English is essential.