English Online reseller programme
Become an English Online reseller partner and provide our online courses as part of the education services you offer your audience.
Partner badge: British Council English Online Approved Partner
Reseller commission
Marketing collateral and product information
Explorer accounts and demos to better understand the products
Scroll
We work with you to select course packages for your audience based on their needs.
Purchase easy-to-use course voucher from us on discount (equal to the maximum commission you can earn).
Resell course vouchers to your audience, adding your commission.
The student can activate their course by using the unique voucher.
What makes this one of the best reseller programmes?
Brand.
Associate with the most respected global brand in English language teaching.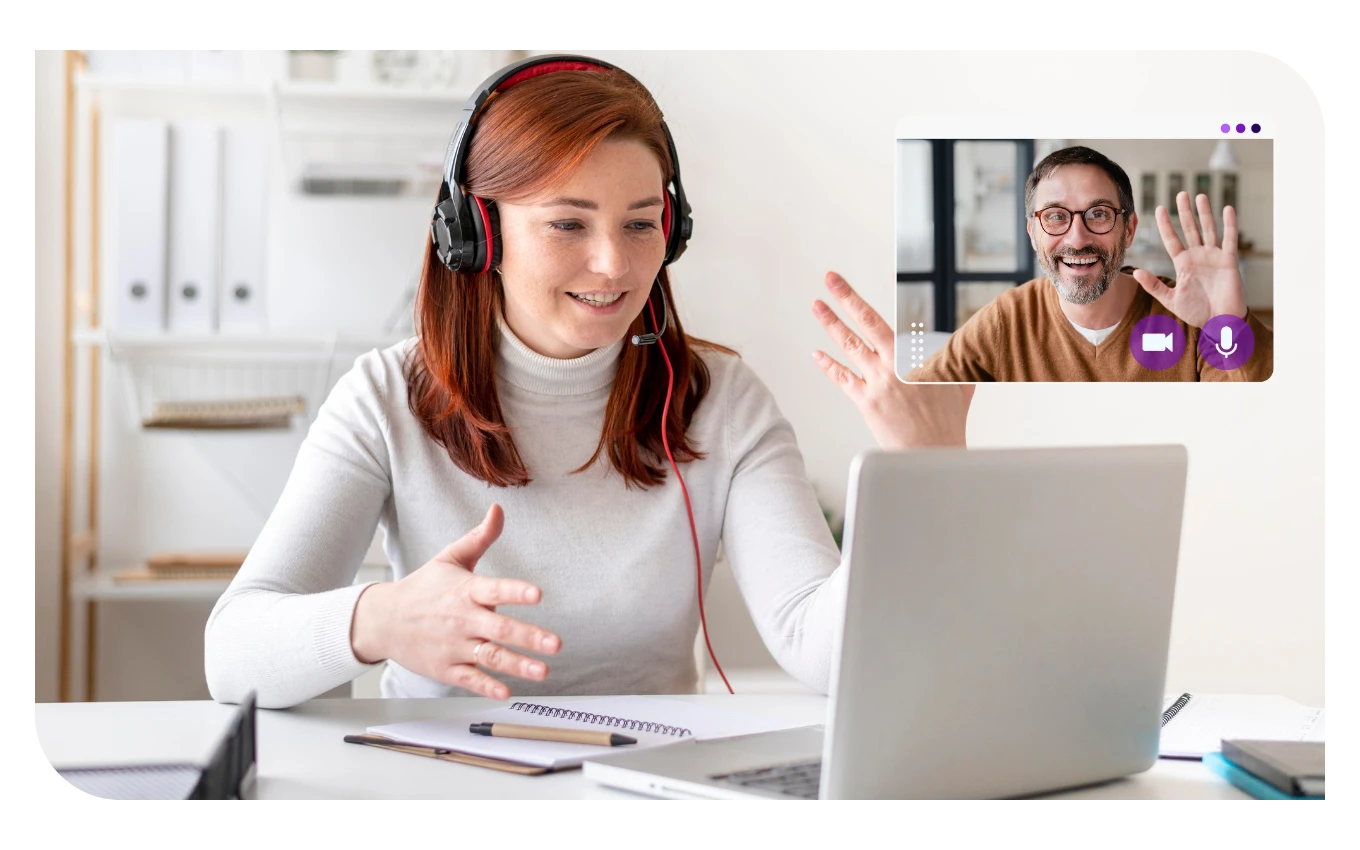 Value.
Offer courses that deliver outcomes, powered by the British Council's innovative English Online platform, to earn a commission and grow your business.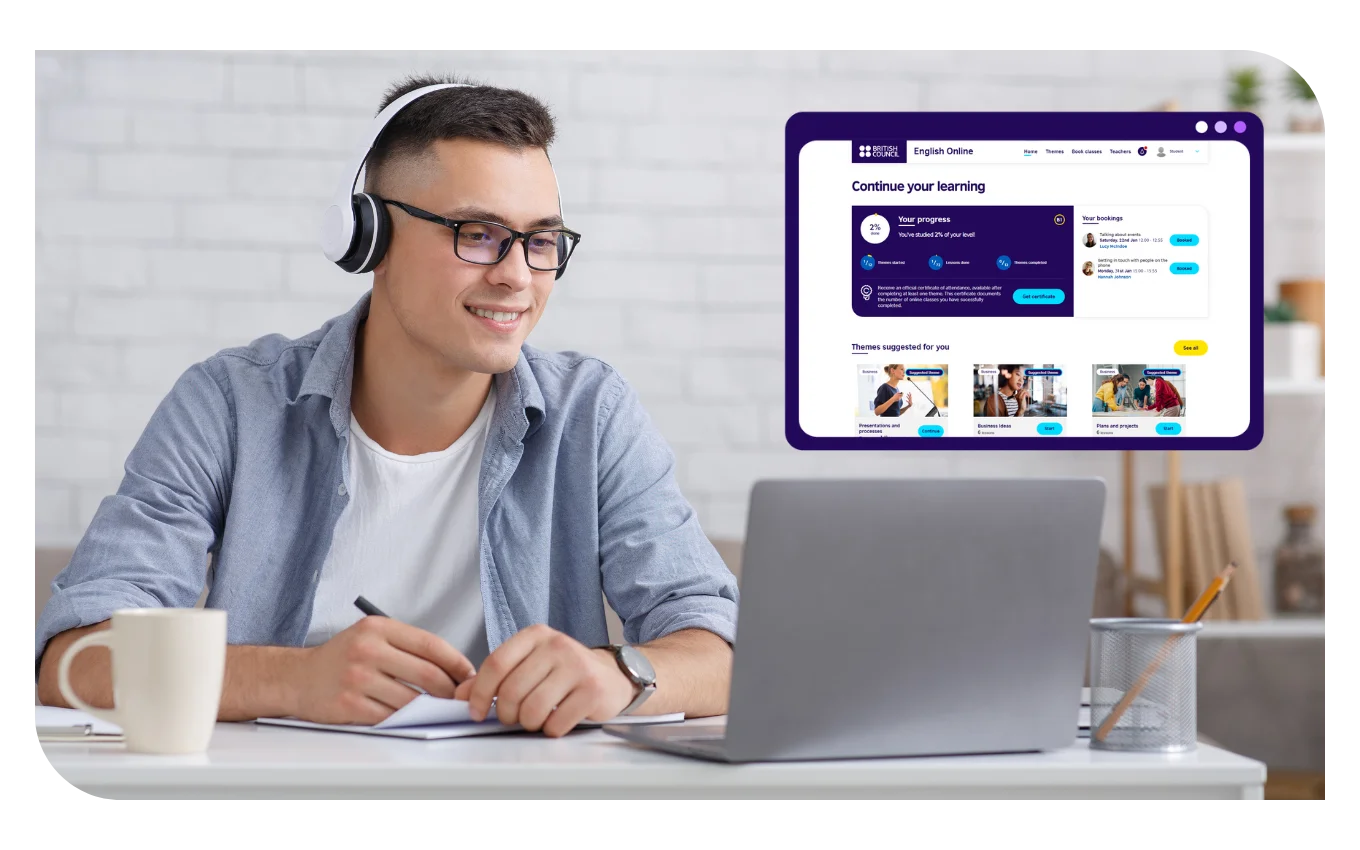 Support.
Get the English Online Approved Partner badge and other promotional collateral to market to your audience.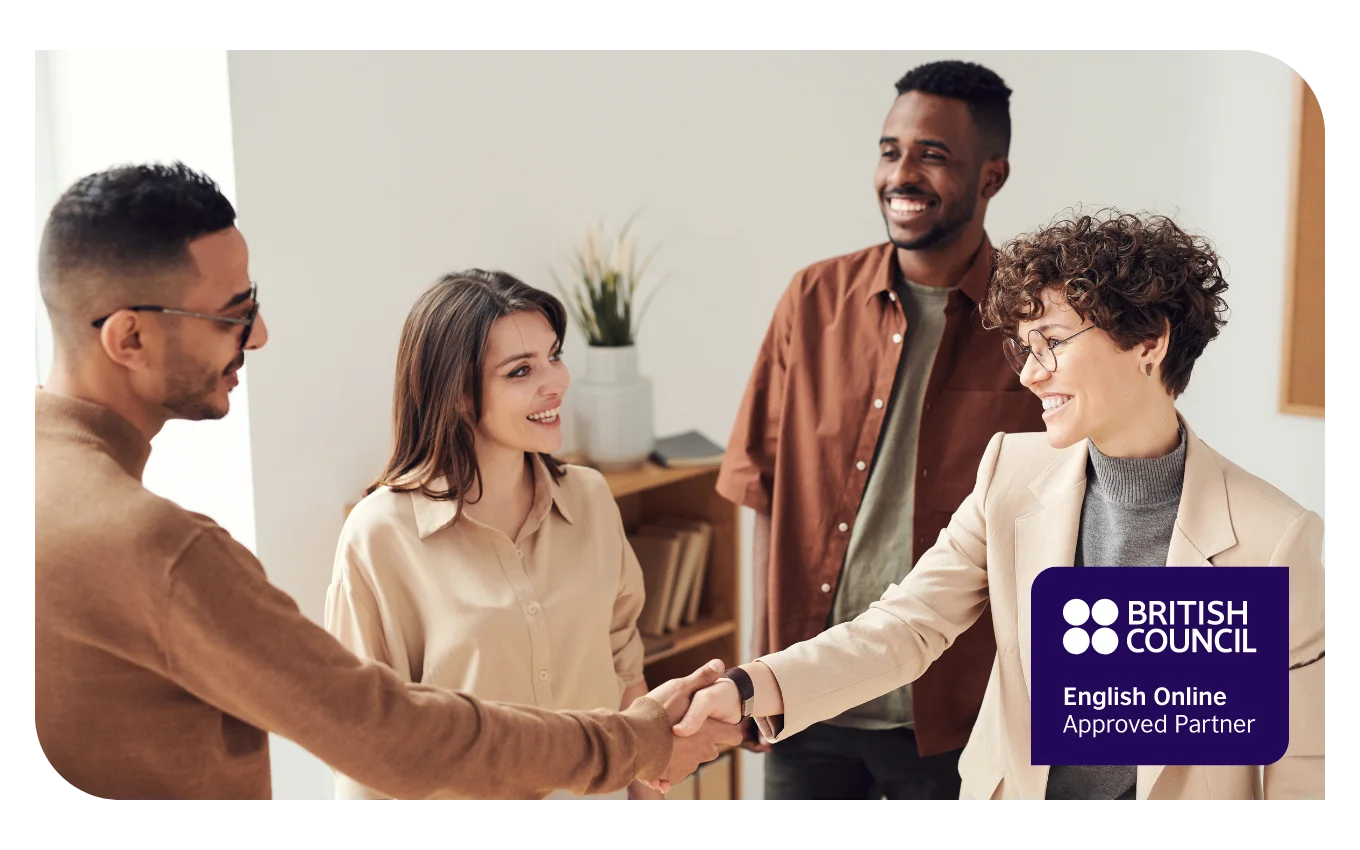 Steps and requirements of becoming an English Online reseller partner
You align with our brand values.
You want to earn a commission by promoting our courses.
Your audience is looking for English courses or IELTS preparation courses.
You prefer to sell directly to your audience through your existing channels.

Apply to our English Online reseller programme.

Meet with us to understand your audience's needs and select the right course packages.

Sign our contract and place your first order to receive course vouchers.

Promote your English Online reseller partner status.

Sell the courses by adding your commission to the course voucher.
What is the commercial model?
To get the corresponding Reseller discount on English Online course packages, you can place an order for at least 100 vouchers or of the value of GBP 5,000. For more information, contact us!
How can you promote our courses?
You can ask us to provide you with promotional text or course flyers. You will also receive an English Online Approved Reseller badge which you can use in your promotions.
Any promotional collateral provided by the British Council must not be adapted in any way and must only be used in connection with this agreement.
You must seek written approval from the British Council before printing, displaying, or distributing materials using the badge. Please allow a minimum of 72 hours for your local British Council representative to respond.
The British Council reserves the right to withdraw use of the badge in cases of repeated misuse.
You cannot use the following promotional methods:
No bidding on our trademark
No bidding on branded/trademarked terms
No bidding on derivatives of branded/trademarked terms
No bidding on broad-match based on branded/trademarked terms
No bidding on competitors based on branded/trademarked terms
No direct linking
No domain forwarding/redirecting
No use of a brand name in the domain
No use of company name or variations of company name in the name or URL of social media pages (e.g. Facebook fan page)
Once you place your order, we will provide single-use voucher codes for the course packages.
Voucher codes will be handed over to you along with sign up link.
You can provide or resell a voucher code when a learner wants to begin their course.
The learner goes to the signup webpage provided by us, enters their details along with the voucher code to access their course.
Vouchers need to be activated within 6 months of their date of issue to you.
Which courses are available to English Online reseller partners?
Resellers can select from the following packages:
English Online Self-Study 6 months' access
English Online Self-Study 12 months' access
English for Work 6 lessons, 3 months' access
English for Work 12 lessons, 6 months' access
English for Work 18 lessons, 9 months' access
English Online 48 credits, 6 months' access
English Online 96 credits, 12 months' access
IELTS Coach Express 10 credits, 3 months' access
IELTS Coach Lite 20 credits, 3 months' access
IELTS Coach Intensive 50 credits, 3 months' access
English Online is the British Council's portfolio of online courses. Students can improve their English skills by using our easily accessible interactive platform, exploring our flexible timetable options and joining live online classes whenever it suits them – all from the comfort of their own homes.
With group classes, they can join students from around the world in live online classes suited to their specific skill level. With small and effective class sizes of up to 15 students, they can get the individual attention they need to truly enhance their English proficiency.
In a private class, they get one-on-one tuition from one of our teachers. The teachers for our private classes have been specifically trained in one-on-one tuition and can focus on individual needs.
English Online offers proven quality teaching and content that delivers real results.