5 Enjoyable English Writing Games That Turn Practise Into Playtime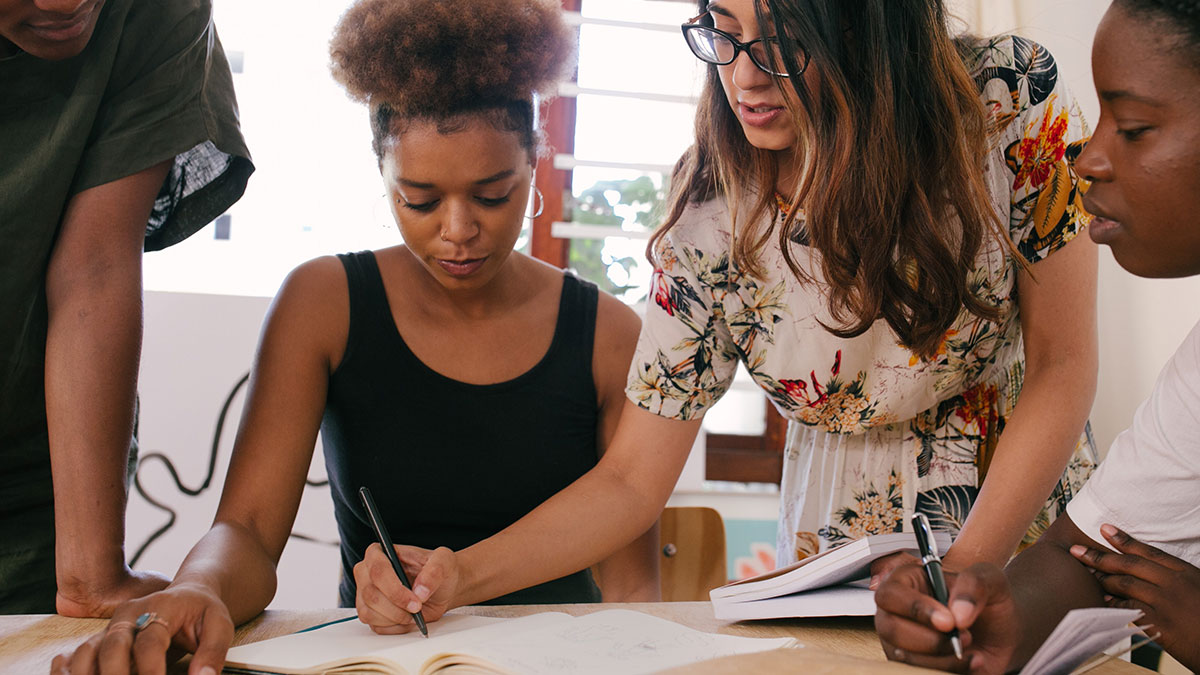 Step into a world of fun while improving your English writing skills. Fun writing games let you practise and learn at your own pace, making studying an enjoyable experience. In this article, discover 5 English writing games that are suitable for all learning levels, so you can improve your English writing skills while having a blast!
How games can help you learn English
Games for learning English are a fun and effective way to improve your language skills. English creative writing games can help learners like you explore different writing styles and experiment with language, ultimately helping to build your confidence.
Games are a great way to help you remember what you learn in English. They are enjoyable, and when you have fun, it's easier to remember things for a long time.
Game #1: Story Starters
Story Starters is an English creative writing game that works best with a group of players. This game involves taking turns to write a story with each player adding a sentence within a set time limit.
How to play
To play Story Starters, gather a group of friends, some paper, pens, and a timer.
You will start with a pre-written sentence (if you Google "Story Starter sentences" you can find plenty). You must add a sentence to this story within 2 minutes set on the timer. Once you have written your sentence, pass the paper to the next person and let them repeat the process by adding a new sentence of their own.
This is a great game for letting your imagination run wild and getting your creative juices flowing!
Game #2: Scategories
Scategories is a quick and creative game where you think of words that start with a given letter and that fit into specific categories to earn points for answers that are unique.
How to play
A group of players is given a list of prompts such as "things babies need". Then, a letter from the alphabet is picked at random (using a lettered die or an online letter generator). Once the letter has been chosen, the timer is set, and each player must quickly come up with a word starting with the chosen letter to answer each of the prompts.
To make things a bit trickier, you only get a point for your answer if nobody else has put the same answer. Playing this game challenges you to think fast to find the most creative and unique answers.
Game #3: Picture Prompts
Picture Prompts is a fun writing game that involves using pictures to create imaginative stories or descriptions. This game can be played by yourself or with a group of people.
How to play
Each player is given a picture or an image. Next, a timer is set for a specific amount of time – 5 to 10 minutes usually works well. The players must then write a creative story or description based on their picture. The goal is to be as imaginative as possible. Once the time is up, players take turns reading their descriptions or stories to the rest of the group.
Game #4: Consequences
In the game of Consequences, players take turns writing words or phrases on a piece of paper, then hiding what they have written to collaboratively create a funny and often silly story.
How to play
Each player takes a turn writing a word or phrase on a piece of paper, then folding the paper after each turn to hide what they've written. Then, it's passed on to the next player, who adds their part before folding the paper and passing it on again. This continues until all players have contributed. Finally, unfold the paper and read out the funny story you created together.
Game #5: Rewrite The Ending
In this English writing game, players are encouraged to choose a favourite film or book and then rewrite the ending.
How to play
Rewrite The Ending is a game that does what it says on the tin. Quite simply, you get to rewrite the ending of your favourite book or film. You can change the story, add new characters, or create exciting twists. It's a creative way to practise writing and using your imagination while having fun with stories that are already familiar to you.
Ready to take your English writing skills to the next level?
While games offer a fun and interactive way to practise and improve your writing skills, combining them with structured learning is even more powerful.
If you're serious about mastering English, check out our English Online courses. Choose between group classes or private, one-to-one tutoring and experience expert-led learning and personalised guidance to help you perfect your English writing skills in no time at all.